Cork Carnival of Science
0 followers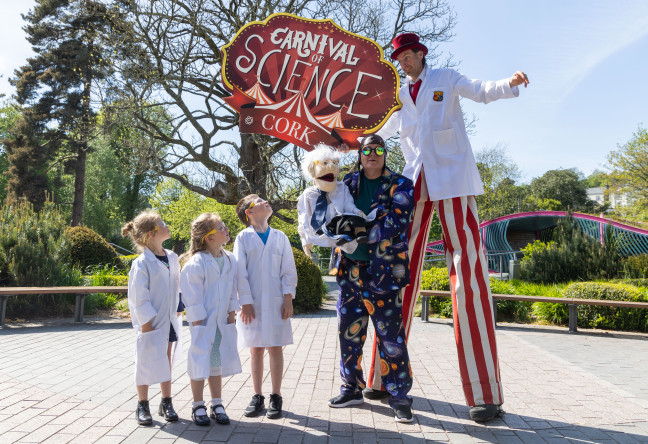 VGW3+GJ Cork, County Cork, Ireland
Jun 10, 2023 11:00:00 AM - Jun 10, 2023 6:00:00 PM
Jun 11, 2023 11:00:00 AM - Jun 11, 2023 6:00:00 PM
Suitable for:
Facilities:
Cork Carnival of Science is the summer festival that will blow your mind!
Curious kids and fun-loving families won't want to miss a free science wonderland weekend popping up at Fitzgerald Park from 10th – 11th June.
The two-day free family festival will take place from the 10th-11th June 2023 in Fitzgerald's Park, which will be transformed into a 12-acre science super park for the weekend.
More than 25,000 people attended Cork Carnival of Science in 2022, making it Ireland's biggest outdoor STEM engagement event! Your mission (if you choose to accept it!) is to explore, investigate, experiment, discover the wonders of science… and have fun!
Organisers have confirmed that this year's festival will be even more of a 'blast' with 45 different STEM based activities, 26 live seated shows in Little Top Tents, demonstrations throughout the scenic park, scientists on stilts, the animal roadshow, interactive stands, an active zone, microscopic wonders, and discoveries big and small along the way - all for free. This year's event will also put a strong focus on climate action.
And with street cuisine, picnic benches, a gigantic playground, extensive gardens, the Cork Public Museum and Café all on site it truly makes for the ultimate family day out!
The programme of events will be unveiled in the coming months but for now, families are invited to save the date for this unmissable stem-tastic weekend.
Cork Carnival of Science is supported by Cork City Council and Science Foundation Ireland and organised by the Lifetime Lab @ Old Cork Waterworks.
Accessibility is a key focus to ensure enjoyment for all, and in consultation with the Deaf Community in Cork, provision will again be made by Cork Carnival of Science to ensure sign language interpretation is available at live show performances and for ad hoc requests.
For more details see https://www.corkcity.ie/corkcityco/en/cork-carnival-of-science/
or stay tuned to social media updates from @corkcitycouncilofficial.