Awesome Walls, Cork
8 followers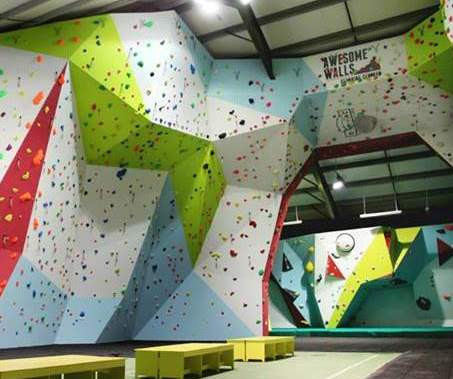 Sports Village, Eden Hall, Model Farm Road, Cork
Mon & Fri: 10:00-22:00; Tue-Thur: 12:00-22:00: Sat-Sun: 10:00-18:30; Bank Hol: 10:00 - 18:00
Suitable for:
Facilities:
Awesome Walls Cork is Ireland's newest and most cutting edge indoor climbing facility. With over 800m2 of dedicated climbing surface including more than 150m2 of bouldering, up to 18m lead route length and home to 200+ climbing routes there really is something fun and challenging for everybody to try.
Whether you're a complete beginner or an experienced rock climbing athlete, you'll want to come back for more! If you want to try rock climbing then there is no better place than Awesome Walls Climbing Centre Cork.
We provide a safe environment and expert tuition to help you on your way to a fun and exciting future in climbing. Our qualified and experienced staff are always on hand to help you through your climbing experience, from answering your questions on anything climbing related to giving tips and advice on training or pushing your grade.
Kids Climb
If you are aged between 6 and 16 years then why not come along to one of our Kids Clubs? If you've a keen young climber on your hands but don't know what they need to be doing in order to progress then let us take them under our wing and point them in the right direction.
Kids can enjoy 2 hours rock climbing with an experienced instructor and meet new friends. The emphasis of our kids clubs is on fun progression. Our instructors will coach participants in all aspects of climbing from knots and equipment to technique and lead climbing.
We run Kids Club on Saturday mornings from ten to twelve. Individual sessions cost €12. We then also run School of Rock (NICAS) which is more of an ongoing climbing course for the kids at various times on Saturdays depending on the level they're at. Individual sessions cost €16 plus a one off fee for NICAS booklet and registration (Level 1+ 2 is €8 and Level 3-5 is €15).
The National Indoor Climbing Award Scheme (NICAS) is designed to promote climbing development and accredit individual achievement on artificial climbing structures. It can be used as a starting point for people wishing to take up climbing and mountaineering.
Awesome Play
We know that it takes more than just strength to overcome the hardest challenges on our climbing walls. To be a good climber also requires skill and brain power.
That's why at Awesome Walls Cork we've got everything your child needs to develop these characteristics while having fun and learning in a safe and weather proof environment.
Awesome Walls play zone consists of over 100 cubic meters of fun and exciting 3D play space. Climbing, jumping, sliding, hiding, swinging and having fun are all part of the Play Zone experience. All this helps to develop your child's fundamental ABCs (Agility, Balance and Control). Plus they get to burn off loads of energy and make new friends.
Ireland's best climbing centre
National competition wall
Lead climbing
Top roping
Auto Belays
Boulder problems
System board
Training area
Great Outdoors shop
Cafe
Play Zone soft play
Function rooms
Showers
WiFi
Corporate groups
School / Education / Youth / Scout groups
Boot camps
Personal Training
Coaching
Team Building