Rapid Kayaking
1 follower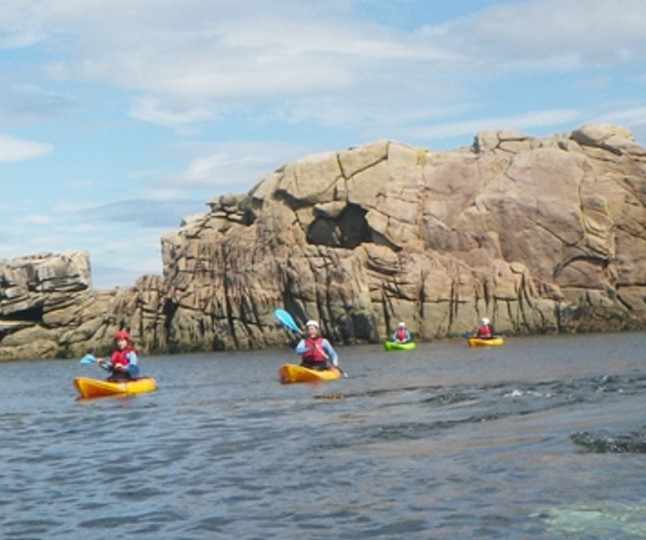 Annagry, Co. Donegal, Ireland
Adult
- EUR 25.00
Child
- EUR 20.00
Suitable for:
Facilities:
We run kayaking trips and journeys along the stunning coastline of NW Donegal, along Ireland's Wild Atlantic Way.
Rapid Kayaking is run by James O'Donnell L3 sea kayaking coach, ex British surf kayak champion and European finalist with years of experience paddling the Donegal coastline.
We run half day sea trips to Donegal islands visiting deserted beaches and rocky coves paddling into caves through sea arches and along cliff bound coastline.
We run shorter fun 2 hour trips that are family friendly and for people new to kayaking.
2hr Scenic Trip €25 per Adult €20 per Child.
Enjoy an adventure and the chance of getting out on the water. Experience some fun and enjoyment kayaking with family, friends or each other.
For our kayak trips we use modern user-friendly sit-on-top kayaks. Once you arrive (after introductions) you are issued with a wetsuit,bouyancy aid and helmet, and each paddler is given a boat to fit their suitability and a paddle for the trip.
A safety brief and practical demo is then given prior to paddlers taking to the water to gain water confidence and familiarity. Basic paddling skills are also covered and practised before the group head off onto their trip.

Where do we run the trips?
Boatstrand
Carrickfin
Kincasslagh Harbour
Dungloe Lake
Narin Beach Portnoo

All trips are weather dependant. Locations / venues for all the trips are changeable and flexible due to weather conditions at the various times of the trips.
We supply all necessary equipment required for the trips. All you are required to bring along with you is a change of clothes, a towel and an old pair of trainers, suitable footwear (as your feet will get wet).
All instructors are fully trained, qualified and insured.
No previous paddling experience or swimming experience is required. Age of children for the trips is
10 yrs and over (If you would like to bring along children under 10 yrs please contact us in advance and we can advise you on the suitability of the trip for the age of the child)
Bookings for the trips can be made by phone or email. During the months of July and August it is highly advisable to book all trips in advance to avoid disappointment as these months are very busy .
Each session lasts approximately 2hrs. Cost of trips €20 per child, €25 per adult.
Rapid Kayaking cannot take any responibility for peoples personel equipment eg watches, phones, cameras,rings ect that they may bring along on a trip.