DLR Leisure, Loughlinstown
0 followers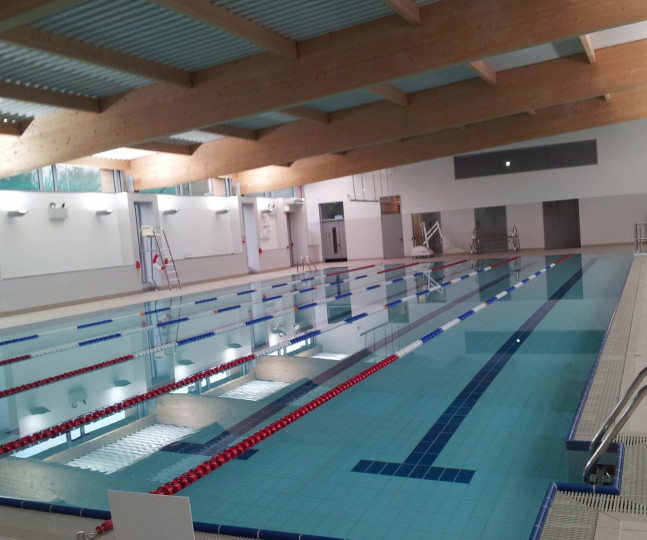 Loughlinstown Drive, Loughlinstown, Dublin, Ireland
Monday to Friday: 06.30 to 22:00; Saturday: 09:00 to 18:00; Sunday: 10:00 to 18:00; Bank Holidays Closed
Suitable for:
Facilities:
Swimming
All Swims are 45 minutes, starting on the hour
Children under 8 years of age must be accompanied by an adult
Features
25 metre, 6 lane swimming pool.
Large cubicles for changing
Full range of swimming lessons
Ceiling hoist
Disabled Toilet
Shower Facilities
Shower Wheelchair
Easy accessible steps for pool entry
Poolside Hoist
15m Commando Inflatable run
Rules:
Swim hats must be worn.
Under 8's must be accompanied by an adult in the pool.(Ratio 2:1)
Children Under 3 years old must wear swim nappies.
There is a non-refundable 50c charge for lockers (50c coin).
Swimming aids not provided.
Swimming
Adult Swim €6.00
Child Swim (Over 3 Years Old) €3.50
Children Under 3 Years Old free
Family Swim* €15.00
Adult and Toddler Swim €6.00
Active Swim €4.00
Concession** Swim (Before 6pm) €4.50
Value Passes (12 Visits)
Adult Value Pass €60.00
Child Value Pass €35.00
Aqua Value Pass €60.00
Family* Value Pass €150.00
Concession** Value Pass €45.00
Aqua Aerobics
Morning Classes €6.00
Evening Classes €6,50
(See timetable for dedicated times)
Inflatable Pool Session
Saturday 3.30 & 4.30pm
Sunday 1.30, 2.30 & 3.30pm
Price Child €5.00 & Adult €7.00
Limited places available, first come first served.
We will increase session to meet demand from time to time.
School Camps
Price: €80 per week (€64 for 4 day camp on Bank Holidays) or €20 per day
Note: 4 day camp price is only available for weeks with a Bank Holiday
Time: 09:00 – 15:00. Early drop off at 08:30 at no extra cost.
We cater for boys & girls aged 4 years to 12 years.
Camp activities range from:
Swimming (every day)
Football
Basketball
Tag Rugby
Tennis
Badminton
Fun & Games
Uni-Hockey
Dodgeball
Rounders
Dancing
Birthday Parties
2 hour Party, 15 Children Max, 1 party attendant & small party room €100.00
2 hour Party, 30 children max, 2 party attendants & large party room €130.00
2 hour inflatable pool party, 30 children max, 2 party attendants & large party room €150
*Children must be able to swim a width of the pool unaided to use the inflatable
Pool parties accommodated at certain times
*Children under 8 must be accompanied by an adult in the water at a ratio of 3:1
*An adult must be in attendance for the full duration of the party

Gym
Prices:
Monday – Friday
Gym, Sauna & Quick Dip (before 6pm) €6.00
Gym, Sauna & Quick Dip (after 6pm) €6.50
Concession (before 6pm) €4.50
Saturday & Sunday all day
Gym, Sauna & Quick Dip €6.50
Concession €4.50

Included in the facility are:
30 pieces of Cardio
32 pieces of Resistance
Vibration plates
Free Weights area
Abdominal & Stretch area
Fully serviced changing rooms including sauna
Air Conditioned
Steam Room
Fully Qualified and REPS (Register of Exercise Professionals)) Ireland Registered instructors are available to organise individual fitness assessment.