Rancho Reilly Pet Farm
5 followers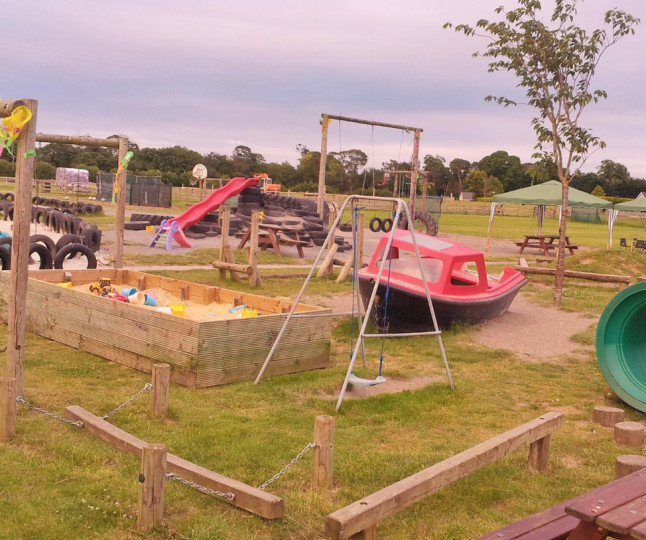 Springhill Road, Carlow, Ireland
Adult
- EUR 6.00
Child
- EUR 3.00
Suitable for:
Facilities:
Rancho Reilly Pet Farm with indoor and outdoor activity areas and campsite!
Pet Farm
Our Animal interaction consists of a petting area where you can hold a bunny or hamster, if you are brave enough you can hold a snake or one of our bearded dragons. Other animals include Fallow Deer, Goats, Pot Bellied Pigs, Ponies, Donkeys, Turkeys, Hens, Geese, Ducks, Sheep, Cows and some birds in our small Aviary.
Outdoor Activities
Our Outdoor Play Areas includes Swings, slides, roundabout, sunken trampolines, sand pits, crazy golf, ride on tracks, football pitch, obstacle course, forts, sandpit boat etc. Tractors, tricycles, bikes etc. to cylce/ride around our cycle/ride on track. We have a designated area where the children can enjoy a pony or donkey ride. Another favourite with the kids is the Barrel Train. A bumpy ride across the fields, always lots of fun but when it's mucky they seem to prefer it!

Indoor Activities
Soft play area for children up to 3 years. Soft play area including slides for 4-11 years. Coffee Shop with a log burning stove serving homemade cakes, scones, sandwiches, snacks etc. Party area – rates for birthday parties are different to normal rates depending on size of party, food etc.
Parties
We guarantee that your child will go home exhausted and thrilled if they share their special day with us! There is no time restriction here which gives them plenty of time to make the most of their big day enjoying all our facilities which include.
Meet the animals
Pony Rides
Crazy golf
Ride around the track
Barrel Train (spin around the farm)
Christmas
Christmas at Rancho Reilly is a truly magical and fun experience for all the family. The farm comes alive with a wonderful festive atmosphere and the scent of pine and log burning stoves fill the air.
Caravan & Camping
Camping at Ranchos is a relaxed, fun experience for all the family!
As you have access to Rancho's Pet Farm and Activity Centre from early morning until the sun goes
down the children are guaranteed to finish every day happy and exhausted.
Pet Farm & Activity Centre Activies/Facilities:
Pony rides, Barrel Train rides, hands on petting and feeding of our animals, Go Kart Track,
Obstacle Course, Sandpits, Mini Golf, Swings, Slides, Roundabout, Forts, Disco Den, Football Pitch,
Indoor slides/soft play area, climbing/playing on bales of straw etc.