Mitchelstown Caves
5 followers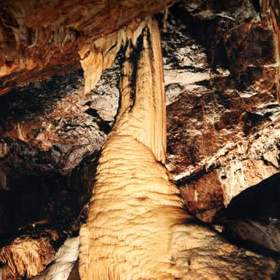 Mitchelstown Caves, Burncourt, Cahir, Co. Tipperary, Ireland
March to May (Open 7 days a week) – 10am to 5pm June to August (Open 7 days a week) – 10am to 5:30pm September to October (Open 7 days a week) – 10am to 5pm November to February (Open weekends and school holidays only) – 10am to 4pm
Adult
- EUR 9.00
Child
- EUR 3.00
Suitable for:
Facilities:
Mitchelstown Cave is a world without sun, without time, a world where man almost feels an intruder, stumbling on a past age, and an era where nature reigns supreme.
Tours by informative guides will take you though three massive caverns in which you are surrounded by indescribable dripstone formations, stalactites, stalagmites, graceful calcite curtains hang from sloping roofs, calcite crystals glisten like diamonds in the distance. Huge calcite columns and one of Europe's finest columns the inspiring "Tower of Babel".
Visitors to the Mitchelstown Cave still buy their tickets from the family home. The cave has been in the same family since its discovery.
Adults: €9
Child:€3 (up to 12 years old)
Group: Rates for over 20 persons