Ski Club of Ireland
2 followers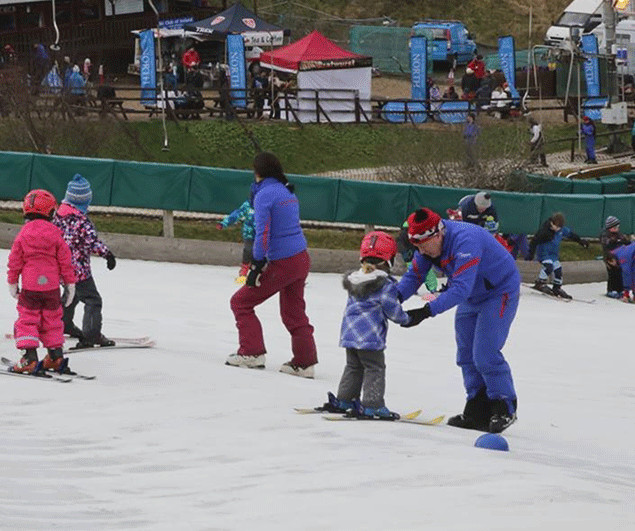 Ski Club of Ireland, Kilternan, Co. Dublin
September-March | Mon-Fri: 9.30 - 22.30; Sat & Sun: 10.30 - 17.30. Wednesday mornings 10.30 - 13.00 for practice only. Sunday evenings 18.00 - 20.30 for snowboarding only.
Suitable for:
Facilities:
he Ski Club of Ireland is Ireland's only outdoor ski slope. We've been teaching people to ski since the 1960s with our team of professionally qualified instructors.
If it's your first time skiing or snowboarding or your fiftieth time the Ski Club of Ireland can accommodate you!
Between September & April we have ski and snowboarding lessons for all levels from first timers to hardened snowsports enthusiasts.
The Ski Club has, for over 40 years, been the place to come in Ireland for skiing and snowboarding.
Perhaps you just want to get those legs back before your ski or snowboard holiday? Well, you can come use our slopes to practice before you go.
Kids
If your child is enthusiastic and wants to learn skiing, the slopes at the Ski Club of Ireland are the perfect place. Our qualified and experienced ski instructors offer a fun and supportive environment enabling your child to have a great time on the slopes whilst safely learning new skills and making new friends.
Children and Youth Ski Classes
For children aged 7 and over we offer classes at 11am and 3pm on Saturdays and 11am and 3pm on Sundays. Children's classes take an hour and a half and are in sets of four lessons. Children can progress quickly and we have different levels of lessons to meet their requirements e.g. Youth Improvers on Saturday and Sunday afternoons. It will teach them to:
control speed during linked turns
develop turn shape and size
strengthen and maintain balance
build confidence when skiing on steeper terrain

Birthday Parties
Do you want to hold a Birthday Party with a difference?
Birthday parties for children and teenagers at Kilternan are a runaway success. Skiing or Tubing make a great occasion for the Big Day. There is so much fun that we always have to run follow-up parties for the friends who attended when it is their turn.
You can also bring your own snacks, birthday cake and drinks to have after the skiing and have a little party to end your activity.
Learn to ski or snowboard in a day
Ski Classes - all ages from 7 up, all abilities
Snowboard classes, all ages 13 up
Freestyle nights
Season tickets - infinite skiing for a flat price
Race training
Group Holidays
School, University and Corporate groups