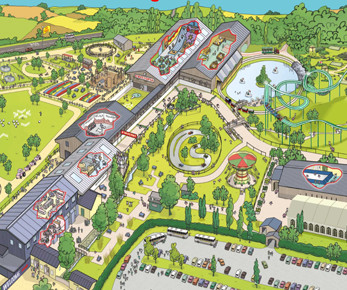 Abbotsham, Bideford, Devon EX39 5AN, UK
Mon-Sun: 10:00 am - 6:00 pm
Suitable for:
Facilities:
The BIG Sheep is one of Devon's top attractions who is probably best known for racing sheep!
NEW FOR 2016: The BIG One Rollercoaster!
Visit the South West's biggest family roller coaster which can be ridden by everyone over 4 years old! 400m of awesome fun, over 12m high with two lift hills and guaranteed to make you smile!
A day out at the attraction will have the whole family experiencing great fun!
There's cute and cuddly animals to meet, feed and fall in love with.
Hilarious animal shows to entertain the whole family and have you laughing out loud at the showmens witty jokes and antics!
A combat zone allowing the family to battle it out against each other with eye safe laser guns amongst real army tanks, helicopters and bunkers.
A splash zone to cool down on hot days, launching water balloons at your victims!
Train and tractor rides to explore the park and mini self drive tractors for littlies to have a go at driving their own tractor.
And across the road from the BIG Sheep is the Ultimate High Adventure Centre with a high ropes course, climbing wall and mountain board and biking centre.
(Limited free goes are available at the Ultimate High throughout the school holidays)