Dublin Bay Prawn Festival
2 followers
6-8 Harbour Rd, Howth, Dublin, Ireland
Mar 17, 2018 12:00:00 PM - Mar 17, 2018 6:00:00 PM
Mar 18, 2018 12:00:00 PM - Mar 18, 2018 6:00:00 PM
Mar 19, 2018 12:00:00 PM - Mar 19, 2018 6:00:00 PM
Suitable for:
Facilities:
It's Festival Time in Howth again and the Dublin Bay Prawn Festival has it all.
Whatever way you like your prawns – barbecued, whole, shelled, fried, skewered, marinated, sauced – Howth's many award-winning restaurants will not disappoint on this not to be missed weekend.
We have a fantastic line up at this year's festival with thirteen of the best Seafood restaurants in Howth taking part to honour the seafood that we are so proud of. Come along and sample the delicious offerings from Howths Finest like Findlaters, Dorans on the Pier, The Bloody Stream, Aqua, Octopussy, The Oar House, The Summit Inn, Tram Chowder, The Upper Deck, McNeills of Howth, The Brass Monkey, East Café and Kingsitric. You might even be tempted to have a tipple from our fully stocked Heineken Bar or maybe some Cheese and Wine from The Wine House Bar.
Our Food Demonstration Tent is looking like it will be as lively as ever with Filleting Demos and cooking demos organised with some of Irelands Top Chefs, to take the mystery out of cooking seafood at home.
When you are full up with food you can trot along and enjoy the Lifestyle Village where you can enjoy lots of local artists brought to us by Howth Music School along with a variety of entertainment, some of the musical acts include: The Sea Shanties, Noel Kelly Pipe Major from the St. Lawrence Pipe Band, Atonal, Prairie Dawgs, Tadgh Snodgrass, Colm Skwirbat, Luke Howard, Muireann McDonnell, Hannah Coldrick, Rob Keogh and more .
As if that wasn't enough local sports and leisure groups, businesses, photographers, artists and environmentalists will also be joining in the fun. There will be something for all the family whatever your taste including my own personal favourite the Dog Show (I did say something for ALL the family) brought to us from the Happy Hound in Sutton.
If you or your mini me's fancy it, you will be able to take a Pony ride and I am promised that one them will be dressed as a Unicorn, exciting eh???
We are also delighted to have the Funfair return to the Festival this year, you can take a spin on one or two of the rides yourselves or just sit back and relax with a pint or a glass of wine while the kids have the craic.
No festival would be complete without some super-duper bands and our line up won't disappoint you. Join MC - Willie Redmond over the course of the weekend and soak up the atmosphere.
On Sat 17th we have - 1pm-2.15 Jiggin, 3pm-4.15 Juno, 5pm-6.30 Bring Out The Chimp.
Onn Sun 18th join us 1pm-2.15 for Howth Trad Collective, 3pm-4.15 Bionic Rats, 5pm-6.30 Diablo.
On the last day Mon 19th you will see, 1pm-2.15 Billy Treacy & The Scope, 3pm-4.15 Bog O' The Loughs, finishing off 5pm-6.30 with The Guilty Party. If you missed them at last year's festival The Guilty Party brought the house down.
So whatever it is that tickles your fancy the Dublin Bay Prawn Festival has it all. We even have a big Screen so you don't have to miss the big match on Saturday!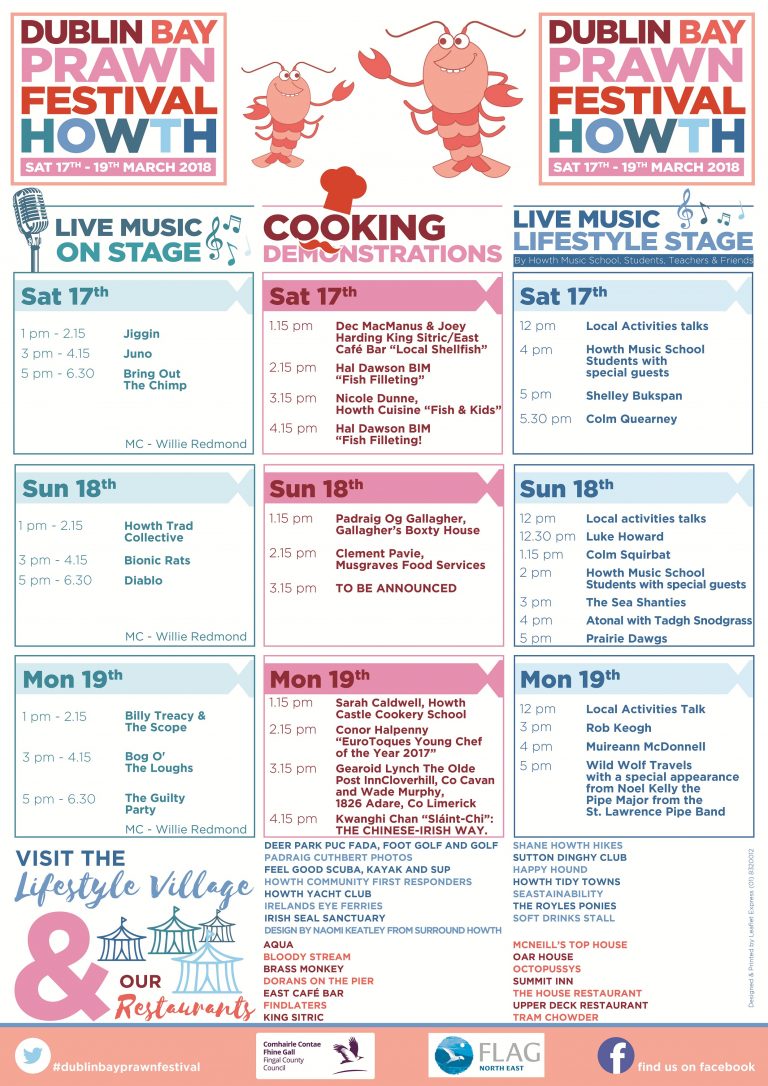 Things to do in Howth, Co. Dublin
Just a short hop on the dart this picturesque peninsula is a breath of fresh air from the bustling city and the craziness of St Patricks Weekend.
At any time of year, there's so much to do in our Authentic Fishing Village, from scenic strolls along the harbour, coastal adventures on the cliffs, soaking up the villages rich maritime history and of course feasting on the best seafood. Lots of family Fun, music, entertainment, activities and more...
Getting There
By Car:
Traffic will be heavy so expect long delays. Seven hundred parking spaces will be provided at Deerpark Hotel and festival traffic will be directed towards these spaces with a local shuttle bringing people to the event. A traffic management plan for Sutton Cross will be put in place to improve traffic flow with the assistance of the Garda traffic corps and a traffic management company. A one-way system at Sutton Cross will be operated at peak times if necessary to ensure optimal traffic flow.
By DART
Irish Rail will be putting on additional Darts to meet demand at peak times and a queue management system will be in place at Howth Dart Station and a managed pedestrian crossing system will be in place at the West Pier.