Ardagh Fright Fest
0 followers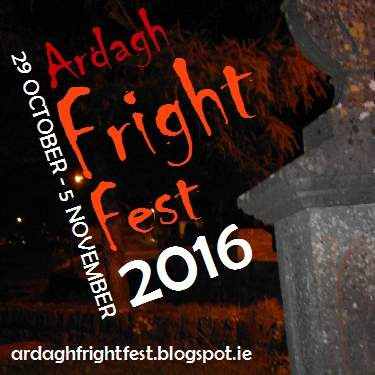 Unnamed Road, Co. Longford, Ireland
Oct 29, 2016 3:00:00 PM - Nov 5, 2016 11:00:00 PM
Suitable for:
Facilities:
Ardagh Fright Fest is a week long festival of frights and fun featuring art, literature, mythology and photography. There is something for all ages from toddler to adult. Full details of events below.
Saturday 29th, Sunday 30th and Monday 31st October
Ardagh School of Witchcraft and Wizardry
3pm. Family Event: Potions, Dark Arts, Forbidden Forest and lots more
All ages welcome. €5 per adult, €8 per child or €24 for family of 4 (1 adult and 3 children or 2 adults and 2 children) Booking essential.
Tuesday 1st November
Celtic New Year Celebration
4pm Lantern Making Workshop, Ghost Stories and Face Painting. All Ages welcome €6pp
6pm Lantern-lit Samhain Walk through woods and village to Brí Leith. All ages welcome, FREE Come in costume if you are brave enough!
Wednesday 2nd November
A Gothic Evening
7pm Readings and discussion of classic gothic literature including Frankenstein, Dracula and more. Age 14+ to adult €6pp
Thursday 3rd November
Spooky Art Camp
12-5pm. Inspired by The Nightmare Club books by Annie Graves Listen to some readings. Paint, draw, collage and print some scary pictures or build your own 3d scene or monster. Outdoor creations too, weather permitting. Children (4+). €18 per child. Booking essential.
Hour of the Witch
7pm. Enjoy a relaxed evening with local author Lorne Patterson including readings from his latest book Hour of the Witch. Adults €6 per person.
Friday 4th November
Finding the fantastic in your fiction
3pm. Award-winning YA author Ruth Frances Long joins us for a writing workshop for teens
Age 12+ €15 per person. Booking essential.
Adult writing workshop
7pm. Joe Murphy returns due to popular demand to share gothic writing secrets
Adults €15 per person. Booking essential.
Saturday 5th November
Author Panel
11am Ruth Frances Long, Joe Murphy and Lorne Patterson answer your questions about their books and what they love about writing.
Ages 12+ and adults €4 per person
Flash Fiction Awards
1pm. Winners of the teen and adult Flash Fiction competition will read their work. All ages welcome
The Nightmare Club
2pm. Local storyteller Maggi McKenna will enchant her audience with tales from
The Nightmare Club by Annie Graves. Children and families €3 per person
Children's Flash Fiction Awards
4pm. Winners of the children's Flash Fiction competition will receive their prizes. All ages welcome
The Hunger Goust Banquet
8pm. Spooktacular meal with Cook n Dine Longford Chef Martin O'Connor
Photography exhibition open to public during all events