Roller Jam, Cork
1 follower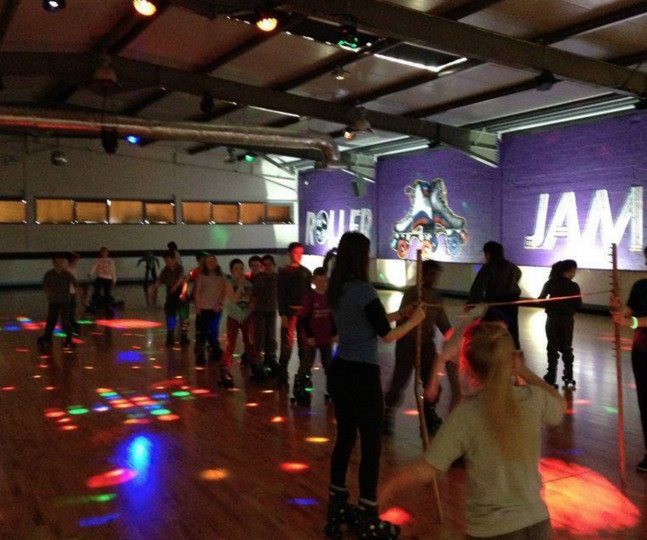 1st floor, Supernova, West Point Busines Park, Ballincollig, Co. Cork, Ireland
Thurs: 6.30 - 9.30pm; Fri: 4.30 - 9.30; Sat: 2-6.00; Sun: 2-6.00pm; Bank Holidays: 2.00 - 4.30
Adult
- EUR 12.00
Child
- EUR 10.00
Family
- EUR 40.00
Suitable for:
Facilities:
RollerJam Cork is a new 9,000 sq ft roller skate rink opened in Ballincollig it is Ireland's biggest indoor rink and located upstairs in Supernova. It is the state-of-the-art facilities suitable for both adults and children. Sessions last 2,5h.
Here at Rollerjam we cater for all your party needs. We offer great packages ranging from birthday parties to Hen parties to student nights out. A great day is guaranteed for all who attend. So get your skates on and join in on all the fun and activities.

Anyone under the ages of 16 must be accompanied by an adult at all times.
Parties
Our 2 hour long parties will provide the ideal mix of roller skating and refreshments for kids who want to skate, party and relax in our private party rooms, where they are served refreshments. Each child will get pizza and chips, orange / blackcurrant squash, sweets and crisps.
As well as our basic party package, we also offer a unique "Glow Party", where the kids receive glow in the dark accessories for skating with, which makes the skating experience even more fun!
Prices
Monday – Tuesday – Wednesday Closed

Thursday6.30 – 9.30 pm
€14 for 2 Adult
€10 for 2 Children
€21.50 Family Pass (4 persons)
Friday4.30 – 9.30 pm
Regular admission
Saturday12.00 – 6 pm
Regular admission
Sunday12.00 – 6.00 pm
Regular admission
*80's/90's Nights on occasion7.30 – 9.30 pm
*All ages welcome
€12 Adult
€10 Children
School HolidaysExtra skate Sessions
Regular admission
Afterschool
The HUT @ Tall Trees is an exclusive after school club for students in 4th, 5th & 6th class. Students are collected from their school, brought to the club where they do an array of activities, homework and are given refreshments.
The HUT has proven to be hugely popular for kids who attend, as they have a vast indoor (& outdoor) space to play in.The club operates from the RollerJam complex when the rink is closed. Members of the HUT also get a membership card, which entitles them to free roller skating!
Get the bus
We are very easy to get to on public transport also! You can get the 232 from Washington street or from the main Bus Station! You are getting of at the second stop in Ballincollig, at the top of the link road, and turning left it is a 2 minute walk to Supernova!
Bus timetable can be found here for the 232 to Ballincollig from Cork City