An Evening of Food, Folklore and Fairies
4 followers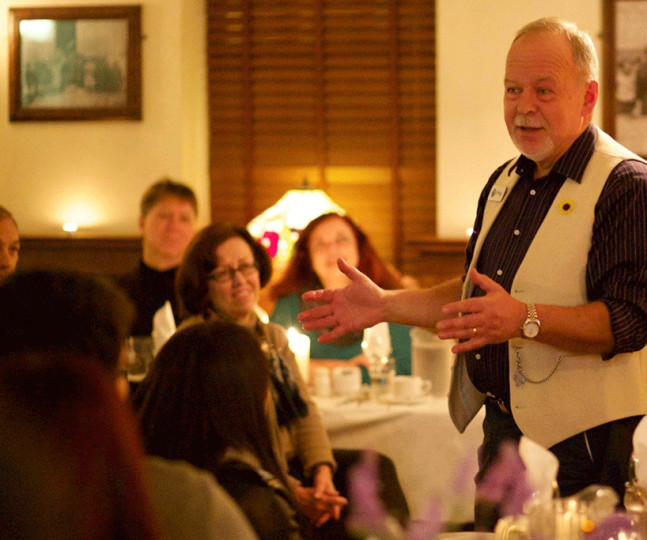 19-20 Lower Bridge St, Merchants Quay, Dublin 8, D08 WC64, Ireland
Time: 7:00pm, show finishes at 9:45pm | March – December: Every Night | January and February: Thursday and Saturday
Adult
- EUR 46.00
Child
- EUR 29.00
Suitable for:
Facilities:
Welcome to an Evening of Food, Folklore and Fairies
This unique, authentic and entertaining evening of Irish storytelling offers a memorable night out in Dublin. Our guests are enchanted by stories of Irish life long ago and gain fascinating insights into the history of Ireland. We are delighted to have consistently been voted the Number 1 Dinner Entertainment in Dublin on ' Trip Advisor ' from 2011 to 2015!
Take your imagination back in time as you listen to the magical tales of Irish Folklore our ancestors shared when they gathered around the fire at night.
Dublin's oldest pub provides a warm, welcome and cosy setting as you relax into our rich culture of storytelling and folklore, with a candlelit traditional Irish dinner and Irish music.
You will leave this unique evening with a deeper understanding of Irish culture and the Irish landscape, bringing the stories of Ireland with you on your journey.
Dinner Setting
The evening takes place in an intimate candlelit setting above Dublin's oldest Pub.
As you relax between courses of a traditional Irish Dinner, our renowned storytellers take you into a world of the imagination with wonderful insights and mystical tales about Irish life in times past.
Guests are seated together in a relaxed friendly atmosphere which allows them to get to know each other and often share stories of their trip to Ireland well into the night. A children's menu is also available.
Highlights
Discover how Irish people lived off the land and why the humble potato so influenced our history.
Explore their beliefs and superstitions surrounding the otherworld of the fairies.
Listen to the magical tales they told as they gathered around the fire at night.
Enjoy live traditional Irish music and ballads while having dinner.

Folklore Dinner
Let our Storytellers take you back in time to the fascinating folklore world of Ireland long ago when the culture was one of the mind, spirit and the imagination and where the unseen world was never far away. Connect with Ireland's rich culture through wonderful and entertaining insights into Irish traditions and the History of Ireland.
Irish Music
In houses around the country long ago, storytelling, Irish music and Irish dance helped people deal with their tough lives that were deprived of any material comforts.
The English used to wonder why the Irish were so happy despite their poverty and it was because they had this rich sociability in their lives.
They had to create their own gaiety and it was these aspects of life and tradition that made so many Irish emigrants remember their homeland. Irish Music is ingrained in Irish Culture and brings Irish people worldwide together to celebrate their Celtic heritage.
In keeping with this tradition we offer you not just magical stories but wonderful traditional Irish music and ballads as part of the evening's entertainment.
At the end of the night, you are free to make your way to the Pub downstairs and enjoy more live Irish music. The Brazen Head, Dublin's oldest pub is one of Dublin's best live traditional Irish music venues.