Leisureland, Galway
1 follower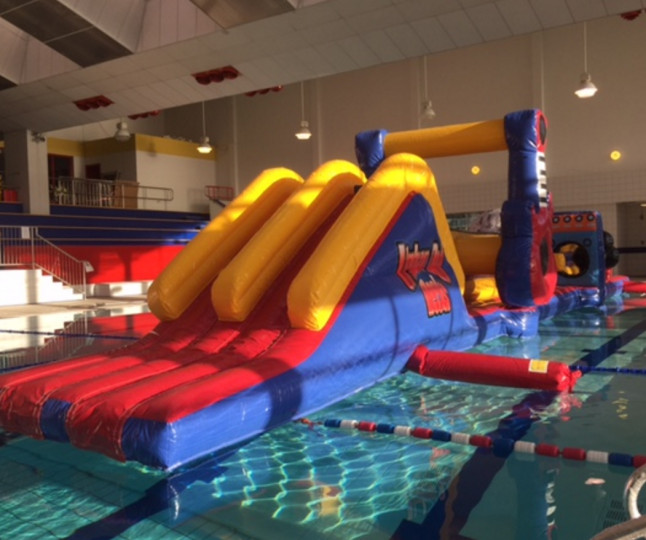 Leisureland, Salthill, Co. Galway, Ireland
Suitable for:
Facilities:
Leisureland, has served the fitness, leisure and entertainment needs of Galwegians and visitors from home and abroad for many years.
Countless have learned to swim, enjoyed family days out or events in Leisureland. With a strong emphasis on providing a quality service combined with friendly helpful staff, Leisureland is one of Galway's top destinations for fun or fitness.
Facilities include:
3 Swimming Pools complete with a giant water slide

Commando run inflatable obstacle course and cool new paddle boats

state of the art gymnasium with a wide range of cardio equipment, fixed and free weights

a 1,010 seater Events Centre (1,200 standing) which caters for Concerts, Exhibitions and Conferences

Miniature Golf Course

Outdoor Amusement Park which opens seasonally

Cafe and Shop on site

Membership options and pay as you go rates available.
Swimming Pool
Leisureland currently operates the following swimming facilities:
25 metre deck level swimming pool

Warm up pool Kiddies

Leisure pool complete with interactive water features

Giant 65-metre water slide

Sauna & Steam Room

Communal changing area and showers

Disabled changing and shower areas

Disabled access - swimming pool hoist
Also Fun additions are added to the pool at weekends during the Super Session.:
Our brand new giant inflatable obstacle course, can you make it to the end without landing with a splash?!

Our super cool Paddleboats
Mini-Golf
9 holes, 1 putter and 1 ball, hopefully!
Now is the time to find out who the best golfer in the family really is. Can you sink it? Yes you can... no, yes, yes, oh no! Unlucky!
Now stand aside and let the kids show you how it's done. Putters and balls available at reception. Have fun, and remember, it's just a game!
Curry's Outdoor Fairground
Throughout the summer months a large amusement park operates on the seafront site at Leisureland.
Enjoy the carnival atmosphere with an assortment of rides and attractions to suit a diverse range of ages and tastes. The park offers something to suit everyone, for those who seek speed and thrills, why not try the waltzers, roller coasters and dodgems or catch the ultimate view of Galway Bay and the surrounding sights from the pinnacle of the big wheel.
Or perhaps you may prefer to challenge your luck and skill at the range of stalls and games mingled throughout.
For more information or if you have any enquiries call Currys on 085 8522059
Summer Camps at Leisureland
Aqua Camp is suitable for children aged 7-12 years, an action packed day from 9.00am-3.00pm daily.
Aqua Camp includes 1 hr and 30 minutes in the water each morning and includes swimming instruction, exercises and fun time sessions. Followed by additional miscellaneous activities including sports, games, art etc.
Little Swim Camp is suitable for children aged 4-6 years. It includes introducing children to the water, basic swimming instruction, cool games and activities which will teach swimming skills while the children have fun.
Children who already have basic swimming skills may be advanced to join the Aqua Camp with the older children to further improve their swimming ability
A limited number of places are available each week of each camp. Places are allocated on a first come first serve basis. Camp is also dependant on minimum numbers of children attending
Birthday Parties at Leisureland
We offer a range of party options to ensure you get the right mix for your day!
Swimming session

Mini-golf

Birthday buffet
Contact us for more details.
Information
Swim hats must be worn.
Children under 7 must be accompanied by an adult.
Parents of children aged 7-10 years must remain in view of the child in the water.
Lockers require a €1 coin.
Super Sessions take place on Saturdays from 2.15pm - 5pm and Sunday from 1pm - 6pm. Includes an inflatable obstacle course, paddle boats (Sunday only, 1pm - 2pm) and giant waterslide.
The Giant waterslide is open at weekends and school holidays.
Children must be 1.1 metres or more to use the waterslide and Inflatable obstacle course.
Sessions are subject to change. Terms and conditions apply.