Donaghmore Famine Workhouse Museum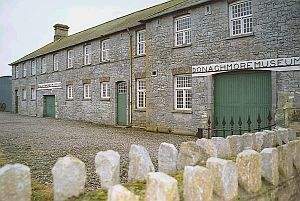 Donaghmore Famine Workhouse Museum is a unique attraction in Co. Laois, Ireland and aims to tell the story of the families who lived and died within the Famine Workhouse walls before, during and after the Great Famine. The Museum uses guided and self-guided tours combined with various exibits to explain the socio-economic conditions which led to the establishment of this and other Workhouses.

Visitors to the Museum will also enjoy an Agricultural Collection made up of a wide range of artefacts donated by local people, rangeing from Farm Implements, household items and hand tools located in one of the two buildings that make up the Donaghmore Famine Workhouse Museum.
R435, Co. Laois, Ireland
Adult
- EUR 5.00
Family
- EUR 10.00
Suitable for:
Facilities: