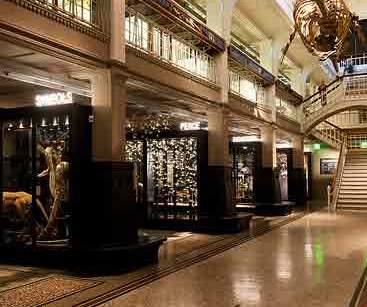 Day Out
The University of Manchester Oxford Road Manchester M13 9PL
Daily: 10am-5pm 24-26 Dec, 1 Jan: Closed
Suitable for:
Facilities:
Description
We're the Museum on Oxford Road with the dinosaurs, mummies and live animals. We also have loads of other great stuff from the natural world and different cultures.
Families
From under 5s to grandparents, there's lots to keep all the family entertained at the Museum.
Events & exhibitions calendar
As well as the information below about the different events the Museum offers, you can visit our events & exhibitions calendar or have a look at our events and exhibitions guide at the bottom of the page.
Big Saturdays and Holiday events
Touching a 200 million year old fossil and objects from ancient cultures; stroking a fox; meeting scientists working on the latest research; making your own treasures; performances and films; having objects brought to life through storymaking and tours. These are some of the things you can experience at our monthly Big Saturdays and school holiday events.
Magic Carpet
Get comfy on our magic carpet and enjoy stories and activities. For toddlers up to 5yrs and their families/carers (young babies welcome with older siblings). Book on 0161 275 2648 a week before the event, free.
Baby Explorers
Baby Explorers interactive story telling and sensory play sessions for babies who aren't yet walking... @ 10.30 and 11.30 am
Musical Baby Explorers musical sensory play session for babies who aren't yet walking...@ 1pm - 1.45
Book on 0161 275 2648 (Bookings will be taken a week in advance from 2pm), all sessions are free.
Baby Explorers is just for babies who aren't walking yet, those with older siblings please come to our Magic Carpet sessions which are held on the last Friday of the month.
Discovery Centre
Drop in for drawing and other art activities inspired by the Museum's collection and to get up close to amazing objects. Open 11am-4pm on weekends and during school holidays. Floor G.
Nature Discovery
Once upon a time…there was an enchanted world full of trees and meadows with creatures up on high and deep inside the undergrowth. Our newly renovated Nature Discovery gallery for under 5s and their families is now open. Floor 1.
Trails & activity sheets
Follow one of our free trails around the Museum, including our A History of the World Relic trail where you can uncover the secrets behind some of our objects (PDF below). You can also get creative with our doodle sheets or use our fortune teller to help describe the animals in the Museum.
Backpacks
We are updating our family backpacks, so that there will be even more things to do. They will be available again soon.
Object handling
Hold objects and discover their stories at our object handling tables. Open daily 11am-3pm.
Galleries
Wander around our amazing galleries full of treasures from the natural world and many different cultures.
Facilities
The Museum has baby changing facilities, lifts to all floors, a buggy park, lockers, a children's menu and highchairs in our café and an indoor Picnic Area.
Birthday Parties
For a truly unique birthday experience, celebrate your birthday with Stan, the T.rex & friends at Manchester Museum. The Museum offers birthday parties that are full of activities for children aged 7-11. Available Sat & Sun 10.30am or 2pm. Max 15 children & 15 adults. Bookings need to be made at least one month in advance. For more information phone 0161 275 2648. 'My daughter, her friends and their parents all really enjoyed Erin's party at the museum. Everyone has been raving about it since!'

Booking information for family events
Most activities are free and drop-in but some may need booking in advance (see individual events for details). A maximum of six tickets can be booked in advance and children must be accompanied by an adult. Tickets booked in advance must be paid for or collected at least 30 minutes before the start of the event. Booking and information line 0161 275 2648.
Access
We aim to meet everyone's access requirements. Please let us know any requirements a week in advance of any event you would like to attend. Phone 0161 275 2648 or email [email protected]