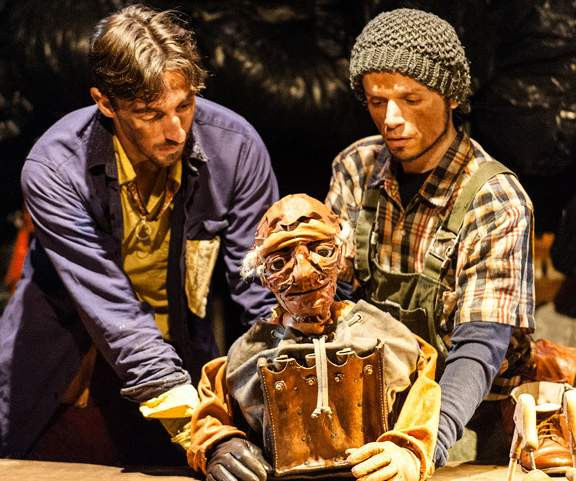 Part of the Festival of Curiosity - Details on other Events HERE
Recycled Rubbish
Presented by Theatre Rites
A magical world where, at the touch of a puppeteer's hand, the contents of a bin bag can transform before your eyes
Come and join our two excavators as they scuttle through the muck finding treasures hidden amongst a world of rubbish.
A magical world where, at the touch of a puppeteer's hand, the contents of a bin bag can transform before your eyes. It's a beautiful, silly and inventive world
Post Show Workshops
The workshop has been designed to accompany the performance of 'Recycled Rubbish' by Theatre-Rites.
Workshops will take place 15-30 minutes after the show. Tickets must be booked separately and are limited.
'Recycled Rubbish' invites audiences into a disposable world, where discarded objects are animated and a team of resourceful 'excavators' bring life to the thrown-away.
During the workshop you will meet another excavator who will invite you to create your own puppet from the 'rubbish'.
The creation of Recycled Rubbish was inspired by Theatre Rites's hugely successful show Rubbish, which toured the UK and was featured on Blue Peter.
"It is precious and profound and playfully inspiring" Total Theatre
WHERE?
Wood Quay Venue
WHO?
Families, Children (5 – 11)
SHOWTIMES
Friday, July 22nd
11.00 Performance
12.30 Workshop
Saturday, July 23rd
11.00 Performance
12.30 Workshop
14.30 Performance
TICKET PRICE?
Shows: €4 Per Person
Workshop: €4 Per Person
Booking Required - BOOK TICKETS HERE
*Please note that all people attending the performances (including adults & parents) will require a ticket.
ABOUT THEATRE RITES:
Award-winning company Theatre-Rites is a field leader in the creation of experimental theatre for children.
Acclaimed nationally and internationally, their touring productions and site responsive works stir the imagination and stimulate thought. Theatre Rites specifically promote understanding and enjoyment of 'object-led' theatre and celebrate the power of visuals, puppetry and animation by working in genuine collaboration with designers, visual artists, film-makers, puppeteers, musicians, composers, actors and dancers.
Wood Quay Venue, Dublin, Ireland
Jul 22, 2016 11:00:00 AM - Jul 22, 2016 12:15:00 PM
Jul 22, 2016 12:30:00 PM - Jul 22, 2016 1:30:00 PM
Jul 23, 2016 11:00:00 AM - Jul 23, 2016 12:15:00 PM
Jul 23, 2016 12:30:00 PM - Jul 23, 2016 1:30:00 PM
Jul 23, 2016 2:30:00 PM - Jul 23, 2016 3:30:00 PM
Adult
- EUR 4.00
Child
- EUR 4.00
Suitable for:
Facilities: