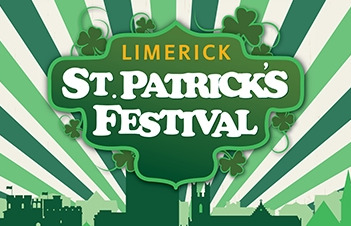 Event
O'Connell St, Limerick, Ireland
Mar 17, 2017 2:00:00 PM - Mar 17, 2017 4:00:00 PM
Suitable for:
Facilities:
Description
An estimated 80,000 people are expected to line the streets of Limerick City from midday on Friday 17th March 2017 for Ireland's largest regional St. Patrick's Day Parade.
The theme of the 2017 Limerick St Patrick's Festival is 'Our Stories, this is where we belong'
The aim of this year's theme is that through story-telling, we celebrate where we belong and that Limerick will bring its own story to life on the streets of Limerick for our national holiday.
The parade, which is being co-ordinated by Grooveyard Productions on behalf of Limerick City and County Council, will feature thousands of participants from various community groups, companies, bands and sports clubs from across Limerick and further afield.
Click for a list of all the Limerick county St. Patrick's Day parades.
Limerick International Band Championship
The streets of Limerick will be filled with lively musical tones and the spectacular sights of over 1,000 talented marching band musicians from across Ireland, Europe and America on Sunday 19th March for the 47th running of the Limerick International Band Championship.
Led by The Irish Army Band, Ireland's only international band competition will start at Pery Square at 12 noon, march down O'Connell Street and the reviewing stand before ending with a free concert for the public in Arthur's Quay Park where the championship winners will be announced.
Bands from the United States, Germany, England, Limerick and across the rest of Ireland will compete in the championship for the overall Kenneally Jewellers Perpetual Trophy
The bands competing in the 47th Limerick International Band Championship are:
Friendship Band, Donegal
CBS Pipe Band, Limerick
The Illinois State University, USA
Clondalkin Youth Band, Dublin
Stadmusik, Todtnau, Black Forest, Germany
Pyjama Band, Shipley, Yorkshire, England
Band 1 Brigade
Redemptorist Centre of Music Concert Band, Limerick
City of Limerick Pipe Band, Limerick
Banna Chluain Meala, Clonmel
Killorglin & District Pipe Band, Kerry
Newcastle West & District Pipe Band, Limerick
St. Mary's Prize Band, Limerick
Mullingar Town Band, Westmeath
Dr. O'Hurley Pipe Band, Cashel
Boherbuoy Brass and Reed Band, Limerick
Clara Town Band, Offaly
Trommlerkorps "Gut Klang" 1919 e. V., Germany
Prizes will be awarded for the overall champions, best uniforms, best musical performance, most entertaining performance, best local band, best youth band, best international band, 'Mayors Prize', the special judges' award and special commendation prizes awarded at the judge's discretion.
The Limerick International Band Championship forms part of a comprehensive St Patrick's Festival in Limerick City, the centre point of which will be the annual St. Patrick's Day Parade. 80,000 people are expected to line the streets of Limerick City from midday on March 17th for Ireland's largest regional St. Patrick's Day Parade.