Solas Na Greine
4 followers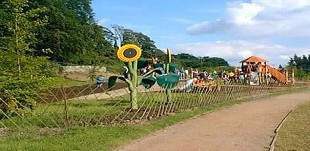 5-7 R426, Portlaoise, Co. Laois, Ireland
Suitable for:
Facilities:
The plan to develop the boggy, poorly drained site on the Timahoe Road, Portlaoise as an amenity park was commissioned in 1999. It was decided to develop the park as an ecological area with emphasis on creating an area diverse in wildlife. On 16th June 2000 the Peoples Park was officially opened by Mr. Joe Dunne M.C.C., Cathaoirleach, Laois County Council.
The park is bounded on one side by 'The Downs' an Esker feature and on the other side by the River Triogue. The soil underneath the top layer is marl clay which was ideal to use as a liner for the lake which was formed when the River Triogue was diverted through the central area of the Park. Footbridges were installed to allow access around the lake and over the river.
The planting used throughout the park is mainly native species of trees and shrubs with some non-native trees planted for their ornamental value and their suitability as parkland trees. These trees and shrubs have been used to form woodlands on the boundary of the park acting as a screen to housing developments in the area. Many wildflowers have grown in the natural environment surrounding the lake. Fish can bee seen jumping for flies in the lake and in the River Triogue from time to time.
There are many different birds to be seen in the park, singing in the trees or on the edge of the river. Swans, Mallard ducks, Little Grebe, Heron and Water Hens can be seen either swimming in the lake or along the river or sometimes sitting on the grass enjoying the sunshine. The island is an ideal safe place for the ducks to nest and hatch their eggs.
Playground Name: "Solas Na Greine" - Sunshine Playground
Location: The playground is situated in the People's Park, Timahoe Road, Portlaoise, County Laois.
Opening Hours: 8am – 9pm summer season and 8am – 6pm in winter.
Features: A Multi Swings Unit, A Sand Play Area, A Cable Runaway, Springers & Seesaw, Multislide and Climbing Unit,Whippee Springer, a bicycle stand, a water front, roundabout and a picnic area.
Remember - Play safe and have loads of fun
When using the playground please respect the equipment and obey all the rules.